November 18, 2019
Stuff I Recommend You Buy and Use
I used to rely a lot on star-ratings of products to help me decide what to buy, but I've found them to be increasingly unhelpful as an indicator of whether or not I'll be happy with the purchase, presumably because there are now so many fake reviews and people trying to game the system.
Instead I rely more on personal recommendations from people I know in real life or bloggers I trust. A while ago Sam Bowman posted a list of things he recommends people buy and use, followed by another similar post, and inspired Rob Wiblin to create one too. I found these really useful, so decided to create my own. I spend a lot of time researching purchasing decisions, so it seems worthwhile to share the ones that live up to (or exceed) expectations! While some of these categories are a bit niche, hopefully there'll be something useful in here for most people.
Gadgets
I cannot stress enough how much I love this mouse. I used to get really bad RSI in my right wrist from using a computer, but as soon as I started using a vertical mouse it disappeared entirely. I have one at home and at work, and I'll take one with me if I'm traveling somewhere and expect to be using my laptop. If I forget to bring or use it, I'll start getting pain after a few hours, but as soon as I go back to using it the pain completely evaporates. If you ever experience even slight discomfort using a computer, I highly recommend trying this.
You can buy 'official' Sleepphones for ~$100, or you can buy off-brand for a fifth of the cost and as far as I can tell no difference in performance. I like these ones because they are comfortable to sleep in (the speakers are quite flat and the band is not bulky), they block out light pretty well when used as an eye mask, and they are bluetooth so I don't have to worry about getting tangled up in cords as I toss and turn at night. I find listening to a podcast or audiobook helps stop my mind racing when I'm trying to fall asleep, and I seem to be able to fall asleep much quicker now that I've trained my body that putting on an eye mask means it's time to sleep. The downside is of course that the speaker is pretty low quality — while they are fine for listening to audio while you fall asleep, I wouldn't recommend them for listening to music or in situations where you don't need to prioritize comfort. They aren't good for blocking out noise (they don't work well for flights, for example); for noise-blocking you would need in-ear or over-ear speakers, which would sacrifice comfort.
I bought a Popsocket after it was recommended in Sam's post, and I haven't looked back. It's so convenient for holding my phone one-handed, particularly for reading, and it's useful as a stand to prop my phone up when watching stuff. Sam recommends buying off-brand, but I bought an original as I'd heard mixed reviews of the quality of the glue in non-branded versions.
I've written in detail about my Xiaomi M365 electric scooter; I think it's a great option for getting around a city. Although it doesn't have the exercise benefits of a bike, it has a number of other advantages, like the fact that you can fold it up and put it under a desk or in the trunk of a car. Since I bought this a while a go there may be better options on the market now, but I haven't tried them.
House Organization and Kitchen Stuff
These are so handy for putting stuff up on walls without causing any damage. I use them everywhere. I've linked to the variety pack, but they have lots of different kinds of strips and hooks so it's worth doing some research to figure out which are best for your needs.
Mason jars are incredibly versatile; I use them for tons of stuff. Using a stick blender (see below) I will blend a smoothie in one of the 32oz jars and then drink it right out of the jar. I use them for iced tea. I use the smaller jars as wine glasses. I also use the small ones for making dessert pots and overnight oats. I use them instead of Tupperware. I use them as soap dispensers. And of course for storing dry food. I recommend getting the wide-mouth versions (as opposed to the regular ones), and getting a few different sizes (the lids are interchangeable as long as you choose the same mouth for all sizes).
Mason jars are great for storing dry food, but due to their shape they don't fit neatly against each other in the cupboard, so a lot of space is wasted. I like using these square containers to maximize space. They are air tight and come with chalkboard labels that allow you to rub out the label and change it as necessary. Using clear containers to store dry food means it's much easier to see how much you have of everything, and (at least for me) means you end up with far fewer half empty packages of things languishing at the back of the cupboard. I also bought some of these storage baskets and have ended up with what I think is a pretty Instagram-worthy pantry: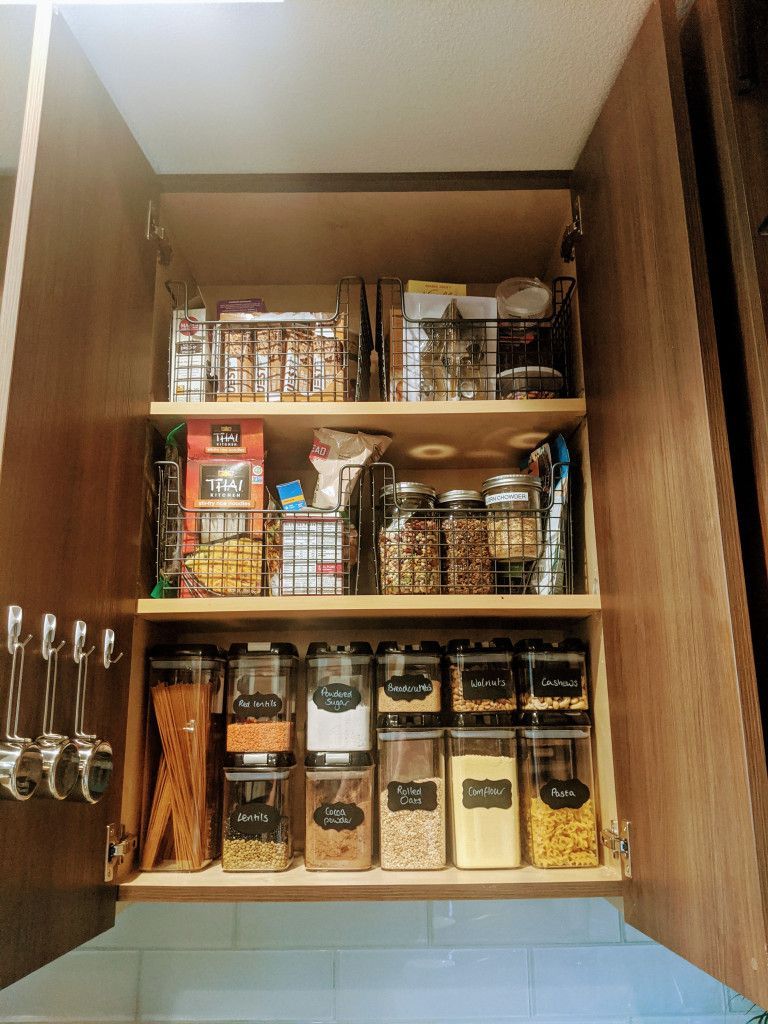 My recently organized pantry
As you can probably tell, I've been on a bit of a domestic-optimization kick recently, and what started it all were these fridge organizers. Our fridge was a mess, making it really difficult to find stuff, and hard to tell what was fresh and what needed throwing out. These organizers have made it so much better, and it inspired me to find ways to organize the rest of the kitchen.
This is another great item for organizing — I have two in cupboards in the kitchen but it could also be used in the bathroom. It spins round so you can easily reach stuff at the back without having to pull everything out and without knocking stuff over.
I've bought my fair share of kitchen gadgets that end up rarely used and tucked at the back of the cupboard. But the airfryer is one that has more than earned its spot on our counter. It roasts potatoes and vegetables much quicker than a conventional oven, and gets them nice and crispy without the need for much oil. It's also good for frozen oven foods like veggie burgers. I use it almost every day.
Health and Wellbeing
If you struggle to get into a comfy position for sleeping, consider trying a buckwheat pillow. I love it so much. You can mould it into the exact position you want, and is particularly good for side-sleeping. It's much smaller than a normal pillow, so you'll need some new pillowcases. I find this pillow so superior to normal pillows that I now have struggle sleeping without it. Luckily, there is an even smaller version which is good for travel.
Once you have a pull-up bar, you can basically do a complete calisthenics workout at home. This one is removable; it hangs over a door frame and doesn't require any fixtures or fittings, yet feels very secure. Although I can't do full pull-ups yet, I use this to practice hanging, negatives, and chair-assisted pull-ups.
Kettlebells are a really versatile piece of equipment. They can of course be used for resistance training, but kettlebell swings can also be a great cardio workout. I recommend one with a coating (to protect floors and surfaces), and I find 35lb to be heavy enough to get a real workout while still being manageable for a range of exercises.
As far as I can tell, Sonicare toothbrushes are consistently the best toothbrushes. When I started using them, it felt like I was getting a dentist-level clean every time I brushed my teeth.
I'm seconding Rob's recommendation of crystal deodorant. The stick lasts for ages, it works well, and it doesn't stain or leave residue on clothes. You can either use it straight out of the shower, or run it under some water to get it wet before applying. Another bonus is that, unlike other deodorants, it doesn't count as a liquid so you can take it in hand luggage easily when flying.
This stuff has transformed my skin; I have far fewer breakouts, the ones I have are less severe, and my pores are much clearer. The active ingredient is salicylic acid, and in theory there are cheaper products with the same active ingredient, but Paula's Choice is the only one I've found to work on me. It's pricey, but you only need to use a little bit at a time. I prefer the regular strength version over the stronger one.
Hair Stuff
Using a microfibre towel instead of a regular towel to dry your hair helps to reduce frizz, and I also find it dries it quicker. I use this one (which comes with a free brush that I don't use), but any microfibre towel should do.
I use Arctic Fox Virgin Pink to color my hair pink. It's a semi-permanent, conditioning, vegetable-based dye. It coats the hair, rather than using harsh chemicals that damage the hair like those found in permanent dyes. As far as I can tell it's similar to Overtone (which markets itself as a color conditioner), but cheaper. If you can't find Arctic Fox, brands like Directions and Manic Panic are similar. The downside of semi-permanent vegetable-based dyes is that they wash out much faster than permanent dyes. You can mitigate this by using cool water, and following the curly girl method (avoiding sulphates helps a lot). They also can't lighten hair, so you can only ever go darker or tint your natural color.
I no longer brush my hair when it's dry — only when it's saturated with conditioner in the shower. The 'wet brush' lives up to its name and is the best I've found for brushing wet hair; it doesn't hurt or pull, and is great at getting rid of tangles. It's also very light making it easy to travel with. I've also tried the Denman brush (which has a lot of fans in the Curly Girl community) but didn't really get on with it — the stiff bristles are not ideal for detangling, and I didn't get much additional definition (though it could be that I just haven't found the right technique).
I love this stuff so much. My hair has always been incredibly thirsty for conditioner, I always had to use tons and it would soak it all right up. This Jessicurl conditioner can be used as a deep conditioning treatment, as a normal conditioner, or as a leave-in. It's very thick and luxurious, and leaves my hair ridiculously soft and smooth. It comes in three scents: Citrus Lavender (my fave), Island Fantasy, or unscented (great if you're particularly sensitive). It's more expensive than I would ideally pay for a conditioner, but it is really good. To keep the cost down I'll alternate using it with cheaper curly-girl-friendly conditioners like this or this. Jessicurl also make a great gel.
Some say it makes your hairdryer looks like a weapon from Men in Black, and they're not wrong. This giant diffuser is so much better than the little ones that usually come with hairdryers; you can fit way more hair in it, it holds curls and waves nicely, and shortens drying time. Although it's adjustable, it's not universal so you'll need to check that it fits your hairdryer.
Shoes
I don't expect heels to be comfortable, but I don't see any reason why flats shouldn't be. Yet it seems ridiculously hard to find smart yet comfortable flat shoes for women.
Recently, lots of innovative brands have been trying to fill this gap in the market with high-end solutions. I tried Rothy's, darling of Instagram, but was distinctly underwhelmed — they weren't particularly comfy, had no arch support, got dirty easily, and didn't feel worth the price tag. I was ready to dismiss the whole trend as marketing hype, but found myself in the vicinity of an Allbirds store. I tried on their Tree Breezers flat and fell in love instantly. The insole is thick and cushioned, with the right amount of arch support. The upper hugs the foot securely. Like many of their competitors, they are machine-washable. I've been wearing them regularly since I got them and they look as good as new.
My main complaint when I bought them was the limited number of colors. They didn't have a black option so I had to get the Marine color — a navy blue that I wouldn't normally choose but has grown on me a lot. However, while writing this I checked their website and they've now got a limited edition version in black, so I quickly ordered a pair!
Jelly Shoes
A pitch I gate at Toastmasters that describes why I love jelly shoes: Have you ever had to pack for a trip and realized you need shoes for the beach, sightseeing, fancy dinners, networking, dancing? Taking different shoes for every occasion quickly fills up precious baggage space which if you're flying can come at a premium. I'm here to tell you that the humble 90s jelly shoe is the answer! These days they come in many different shapes, styles and colors, so you're bound to find something that suits you.
They are cheap (around $15)
They are comfortable
They can be washed
The wey don't get worn down or scuffed
They can be worn on the beach and rinsed off when sand gets in
They can be worn in the rain
They can be worn dancing
They can be worn to work
They can be worn to formal events
They can be worn to go city sightseeing
I've even worn them hiking! I once spent a month in Thailand and only took one pair of shoes: jelly shoes. I didn't miss having anything else. Recently, I got taken in by some fancy marketing and invested in a pair of Rothy's shoes made out of recycled plastic bottles that are touted as the perfect women's work flat you'll see people wearing them all over

SF

. Despite their hefty price tag, for me, they are less practical and less comfortable than my standard jellies which cost a tenth of the price.
Misc
(Only applies if you have a cat, obviously) I'd been toying with the idea of getting a cat for a while but had no idea what would be involved in looking after them. Then my friend Larissa told me that cats are 'slightly more work than a throw pillow' and that swung it. I think she is basically right! This automatic cat feeder really helps. It's great for ensuring consistent portions, and for feeding your cat while you're at work or out. Our cat is a hungry beast and we can't just leave a load of food out for him because he wolfs it down and then gets sick. We have found an even better way to slow him down by using the automatic feeder in conjunction with this 'interactive' tray, our set up looks like this: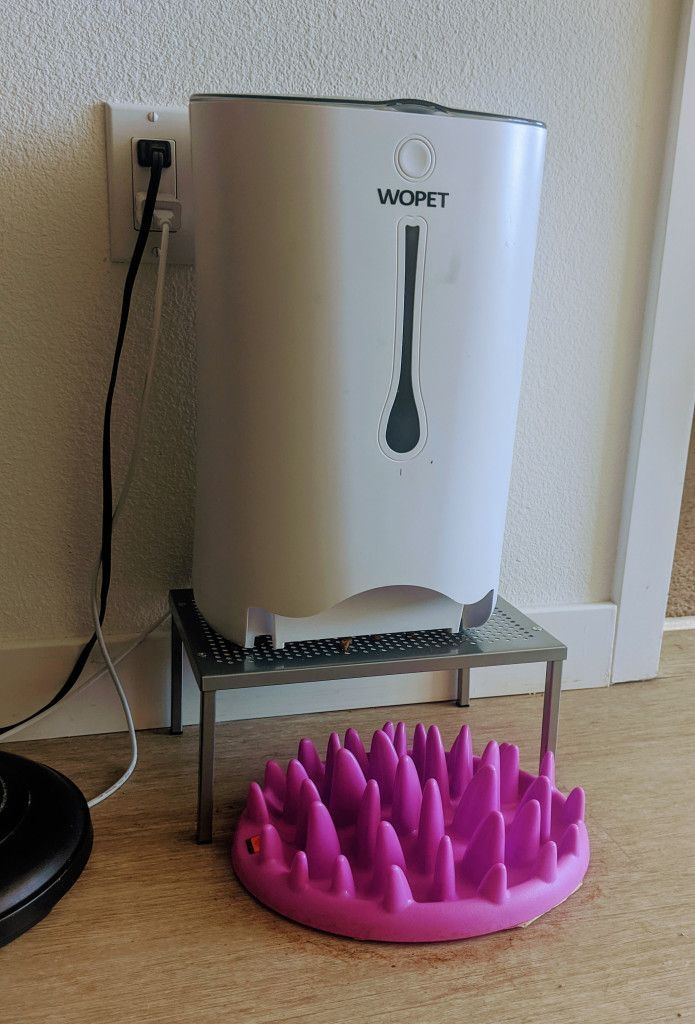 The food drops out of the automatic feeder on to the tray
Another benefit is that he's learned to stop bugging us when he's hungry, because he now associates the process of getting food with the feeder rather than us. When it's coming up to feeding time he just sits near the tray and looks at the feeder very intensely, it's pretty adorable.
I love games that are small enough for me to pop in my handbag and bring to parties, and I've got so much use out of this game. It's great for social events, particularly as an ice breaker. It's fast: rounds last 5-10 minutes, and requires a mix of deductive reasoning and social bluffing. The difficulty can be dialed up or down easily for different groups by choosing which roles to include, and while the rules can sound confusing to first-timers, after one round people have usually got the hang of it.